Staking Pool
May 5, 2022 — 5 Min READ
Revuto users and REVU-holders get exclusive access to Profila project
Following R Fund's initial investment in the Profila project, we have continued to work together with the Profila team in order to secure additional benefits for Revuto users and, at the same time, help our partner as they prepare for their public launch. As a result, Revuto users and REVU holders will enjoy multiple benefits thanks to this joint venture. We already announced in one of our previous blog posts that users who stake their ADA in the R Fund staking pool right in the Revuto app will earn a Special R Fund NFT which will provide them the opportunity to participate in the first launchpad within the Revuto app under special conditions and privileged terms. As the first project that R Fund invested in, and the first token that will be offered through the Revuto Launchpad, Profila will give users who stake at least 500 ADA in the R Fund staking pool exclusive access to purchase ZEKE tokens at a 50% discount compared to their public sale price.
Announcing the first IFO staking pool in the Revuto app
We didn't want to leave REVU token holders out of this great deal because we want them to profit the most from our R Fund investments, so we decided to call Rstronauts to join us on the Profila planet where we will launch the first Initial Farm Offering (IFO) staking pool. Since this staking pool is special in many ways, we decided to offer a much higher than usual APR to all users who will stake REVU in the Profila IFO pool. To celebrate the launch of the first Initial Farm Offering (IFO) pool within the Revuto app we decided to allocate 250,000 ZEKE tokens. You probably already know that if you join us on our space adventure where we explore the Cardano Universe, you can earn an Rstronaut NFT, and holders of this NFT can get a $10,000 reward. The Profila IFO staking pool is one of the staking pools where you will need to stake a minimum of 2000 REVU tokens to remain eligible for the Rstronaut NFT.
Stake REVU to earn ZEKE in the first IFO pool within the Revuto app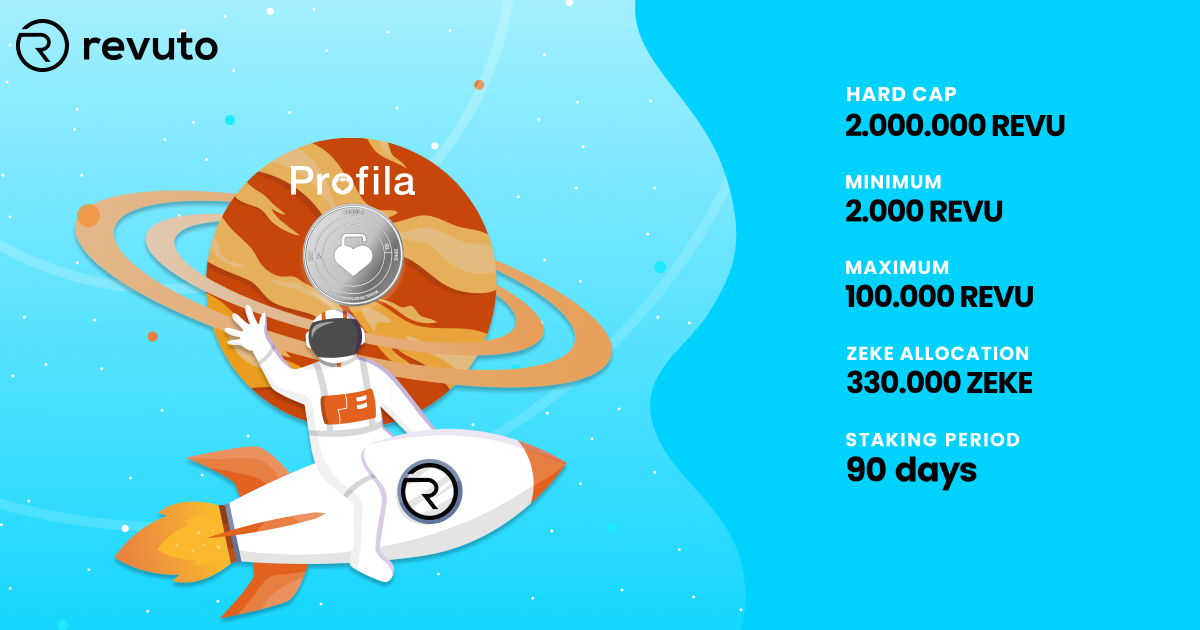 • Staking Pool Hard Cap: 2,000,000 REVU (first-come, first-served)
• ZEKE token allocation: 330,000 ZEKE
• Minimum staking amount per user: 2,000 REVU
• Maximum staking amount per user: 100,000 REVU
• Subscription period: 10 days
• Staking period: 90 days
Although the amount of earned ZEKE tokens is fixed and based only on the amount of REVU tokens you initially staked and the total amount of REVU staked in this pool, the APR requires a different calculation and correlates with the price volatility of both assets. Stated APR in the Revuto app is based on the current price of REVU, the total amount of REVU tokens staked in the pool, and the Public Sale price for the ZEKE token, which is $0.075. The subscription period for our Profila IFO staking pool starts Friday, 06.05.2022 at 10:00 UTC and will last for 10 days until 16.05.2022. During that period, investors will be able to stake a minimum of 2k REVU and a maximum of 100k REVU. The staking period will start on 16.05.2022 at 10:00 UTC and will last for 90 days. ZEKE tokens earned through this pool will be distributed 90 days after the Profila IDO. If anything is unclear, don't hesitate to reach out to us and we'll be happy to clarify!
About Profila and Zero knowledge token (ZEKE)
Profila is a Swiss company operational since 2018, building a customer data, engagement & marketing platform which is forging a new era toward Decentralized Marketing (DeMar) platforms built on blockchain & privacy preserving technologies. To drive DeMar into ad-tech, Profila is conducting research and will build a privacy-preserving system called Zero Knowledge Advertising which integrates into the current Ad ecosystem, allowing people to entirely control how their personal data is used and control their digital experiences (including when and what content and ads they want to see and from whom). Zero knowledge token is a Cardano Native Token that enables governance, rewards and utility in the Profile app. You can also use it to control how brands use your personal information and to get compensated for viewing marketing content. Read more about Profila and their Zero knowledge token on the Profila website.
You can also check out our Revuto Podcast with Profila, where Revuto CEO Vedran Vukman chats with the founders of Profila about their partnership and goes into detail about the R Fund's investment and partnership with Profila.
Be sure to download the Revuto app from the App Store, Google Play, or Huawei AppGallery to get access to all of Revuto's current staking opportunities and more!